We break through barriers for women and girls!
American Association of University Women  (AAUW), founded in 1881, is an organization of more than 170,000 members and supporters, open to graduates who hold the associate, baccalaureate, or higher degree from a qualified college or university. In addition to national members, local branches are active in Missouri. The Kirkwood–Webster Groves branch, founded in 1971, is one of five branches in the St. Louis area.
*********
Branch Holiday Get-together   

We will attend the 3:30 holiday concert of the St. Louis County Community Chorus on December 10 at Manchester United Methodist Church. Tickets should be purchased from the Chorus. We'll have dinner together afterward at a nearby restaurant. Contact us for further information.
*********

Fall Community Activities
Members could be found selling pecans to support our STEM scholarships for high school girls and sharing AAUW's equity message at the Kirkwood Human Rights Commission event, "Elevating Transgender Voices."

*********
Two Members Honored for AAUW Service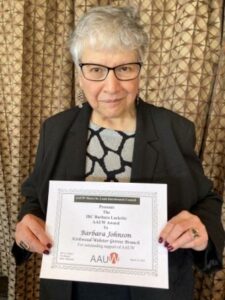 Barbara Johnson was honored as the recipient of the Kirkwood–Webster Groves Branch Barbara Lackritz Service Award for her tireless work on behalf of AAUW over the 50 years she has been a member. The award was presented at the Metro St. Louis AAUW Interbranch luncheon in March 2023.
M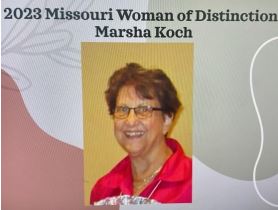 arsha Koch was named Missouri Woman of Distinction for 2023 at the AAUW Missouri State Conference in May. The highest award given by the state organization, the Woman of Distinction award recognizes Marsha's service to AAUW, to women, and to the community.
Congratulations to Barbara and Marsha!
**********
Plant a
VOTE

Yard Sign!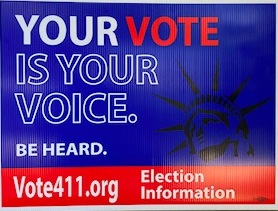 Working with the St. Louis League of Women Voters, Kirkwood–Webster Groves AAUW Branch has designed this VOTE sign as part of a statewide Get Out the Vote project.  AAUW Missouri is making up to 10 free signs available to each AAUW MO branch for its members to display or to donate to local organizations or public places. The signs are also for sale to the public. The price for one sign with a stand is $5. We will deliver locally in St. Louis and collect payment at that time, asking you to leave cash or a check made out to K-WG AAUW in a spot you designate.  We will need a street address in addition to email and phone number.
 If you would rather pick up signs from us, let us know that, and we will contact you to arrange a pickup time. The signs are also available for purchase at the LWV's office at 8706 Manchester Road. Suite 104, St. Louis, MO.
Please contact us for further information.
************
The Kirkwood–Webster Groves Branch
Celebrates 50 Years
of Empowering Women and Girls!
Members, past members, and friends joined us for our 50-Year Anniversary Celebration Brunch, Saturday, October 16, 2021, at Greenbriar Hills Country Club.
Guest Speaker was Judge Robin Ransom, Supreme Court of Missouri. See more photos here.
************
Plant a Yard Sign for Women!
Our 2020 project made the news! Read it here in the Webster-Kirkwood Times: click Article by Jeannie Webdell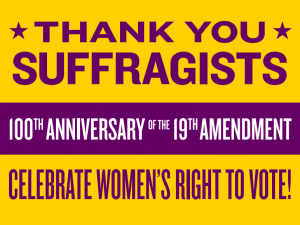 August 26, 2020, was the 100th Anniversary of the certification of the 19th Amendment. After 60 years of organizing, meeting, protesting, lobbying, and marching, women in every state were officially granted the legal right to vote. Of course, it took almost four more decades for women of color to be able to fully exercise that right. 100th Anniversary programs, proclamations, websites, and celebrations were planned across the nation, but many public events had to be cancelled due to COVID-19.
Our project, Plant a Yard Sign for Women, thanks the suffragists and is a subtle reminder that women have not always had a voice in local, state, and national government.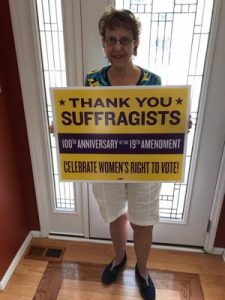 We designed a celebratory sign in the colors of the U.S. suffragist movement and printed more than 500 signs that members of women's organizations purchased and displayed in their yard, window, community centers, or meetings. This is NOT a political project, and this is NOT a partisan effort. The sign is generic and has no display expiration date. We celebrated our right to vote and showed the St. Louis area how important this is to St. Louis women! A few signs are still available for purchase. Contact the branch.
*******************
Learn to Negotiate Your Pay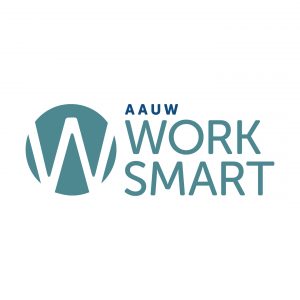 Women typically are paid 80 percent of what men are paid. Use AAUW's free Work Smart online workshop to learn how to ask for more. Go to https://salary.aauw.org/ks-mo.
See more about AAUW's economic security action plans at https://www.aauw.org/issues/equity/.
*******************
AAUW's mission is to advance gender equity through research, education, and advocacy.
Kirkwood–Webster Groves branch is part of the St. Louis AAUW Interbranch Council and Missouri AAUW.