Make a Plan for Voting!
Be aware that Missouri's voting laws are different from some guidelines you might see on social media. Have a plan and allow plenty of time for mailing the special 2020 Mail-In Ballot if you choose to use that. Besides voting in person, you have two other choices: Absentee by Mail and Mail-in.
Link to judicial retention information for St. Louis County
Links to map of notary services and searchable version.
Plant a Yard Sign for Women!
Our project made the news! Read it here in the Webster-Kirkwood Times: click Article by Jeannie Webdell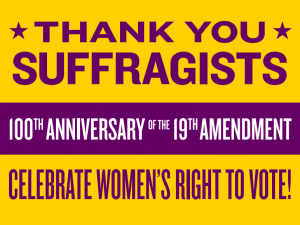 August 26, 2020, is the 100th Anniversary of the certification of the 19th Amendment. After 60 years of organizing, meeting, protesting, lobbying, and marching, women in every state were officially granted the legal right to vote. Of course, it took almost four more decades for women of color to be able to fully exercise that right. 100th Anniversary programs, proclamations, websites, and celebrations were planned across the nation, but many public events had to be cancelled due to COVID-19.
Kirkwood–Webster Groves AAUW wants to shout it to our neighbors, and we invite your organization to join us! Our project, Plant a Yard Sign for Women, thanks the suffragists and is a subtle reminder that women have not always had a voice in local, state, and national government.
We have designed a celebratory sign in the colors of the U.S. suffragist movement and are printing 500 signs that we hope members of women's organizations will also want to purchase and display in their yard, window, community centers, or meetings. This is NOT a political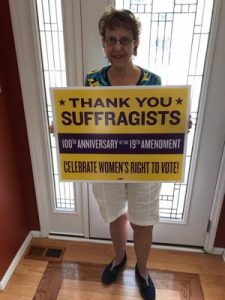 project, and this is NOT a partisan effort. The sign is generic and has no display expiration date. Our branch is purchasing signs for our members; your organization may choose to do the same or purchase signs and resell them. We will coordinate the orders and distribution of the signs as well as publicity for the sign blitz. Contact us for more information or download and send in the order form.
Let's celebrate our right to vote and show the St. Louis area how important this is to St. Louis women! Wouldn't it be fabulous to see signs all over the area celebrating women and the vote!
*******************
Learn to Negotiate Your Pay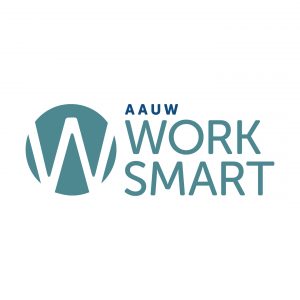 Women typically are paid 80 percent of what men are paid. Use AAUW's free Work Smart online workshop to learn how to ask for more. Go to https://salary.aauw.org/ks-mo.
See more about AAUW's economic security action plans at https://www.aauw.org/issues/equity/.
*******************
About Us
We break through barriers for women and girls!
American Association of University Women  (AAUW), founded in 1881, is an organization of more than 170,000 members and supporters, open to graduates who hold the associate, baccalaureate, or higher degree from a qualified college or university. The Kirkwood–Webster Groves branch, founded in 1971, is one of five branches in the St. Louis area.
AAUW's mission is to advance gender equity for women and girls through research, education, and advocacy.
*******************
A Look Back at Some of Our Activities
Spring Celebration Brunch, June 23, 2018
AAUW Missouri Leaders
hip Conference, May 5, 2018, Columbia
AAUW Work Smart salary negotiation workshop at Webster University, hosted by Kirkwood-Webster Groves Branch April 16, 2017
We celebrated our branch's 45th anniversary in 2016!
Jeanne Webdell, Carol Davis McDonald, former AAUW-MO President Diane Ludwig, and Branch President Kay Meyer enjoy the celebration of the branch's 45th anniversary.


Branch members help celebrate the vote in downtown St. Louis, Sept. 3, 2016.
Kirkwood–Webster Groves branch is part of the St. Louis AAUW Interbranch Council and Missouri AAUW.